Why Is Your "Credit Score" Important?
The Basics
Credit Issues
Families may be seeing reports in the media which speculate about the impact of the subprime mortgage credit crisis on the availability of students loans. Please review the information in this section for more information.
Lenders normally look at your past history in repaying consumer debt in determining the interest rate that they will charge on a private student loan. Major lenders often utilize your "FICO" score.
Credit bureau scores are often called "FICO scores" because most credit bureau scores used in the U.S. are produced from software developed by Fair Isaac and Company. FICO scores are provided to lenders by the major credit reporting agencies.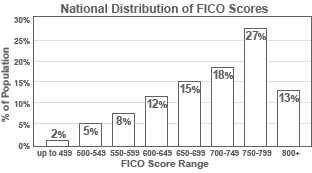 FICO scores provide the best guide to future risk based solely on credit report data. The higher the credit score, the lower the risk.
What's My Score? (and why it matters)
Suggestions for improving your score if you have had credit problems in the past
You are entitled to a free copy of your credit report from each of the three major credit reporting agencies once a year. You can obtain these free credit reports from www.annualcreditreport.com. Call 1-877-FACT-ACT (1-877-322-8228) for more information
Most lenders will offer a lower interest rate to students who have a "credit-worthy" individual willing to co-sign their loan application. An individual who co-signs your loan application will be held legally responsible if you fail to repay your student loan.
Credit Card Act of 2009
Most provisions in the Credit CARD Act of 2009 are effective February 22, 2010. The reform legislation, signed by President Obama in May 2009, place new restrictions on credit card fees and interest rate policies. Read More about these changes
How Long Does Information Stay on Your Credit Report ?
| | |
| --- | --- |
| What | How Long on your report |
| Positive Information | Indefinitely |
| Bankruptcy | 10 years from the date of final order |
| Late payments | 7.5 years* |
| Accounts sent to collections | 7.5 years* |
| Other Negative Information | 7.5 years* |
| Lawsuits or Unpaid Judgments | 7years or more |
| Tax Liens | 7 years from the date of payment |
| Information in response to a job application where the salary is over $75,000 | Indefinitely |
| Information reported because of a credit or life insurance application for over $150,000 | Indefinitely |
*The seven years starts running from the date of first delinquency, which generally means seven and a half years from the date of last payment.
Updated April 22, 2012